Axle City is a major location in Blaze and the Monster Machines. It is Blaze and AJ's hometown, and it's where most of the series' events take place. Its actual location remains unknown, but it does have a Maglev train station. The population consists of mostly trucks and cars.
Its location is unknown, but judging by the ending shot of Robots in Space, it is possibly in either northern Florida or southern Georgia.
Points of Interest
Businesses
Axle City Garage
Bakery
Crab Warehouse
Egg Warehouse
Glue Factory
Recycling Plant
Pie Factory
Toy Factory
Toy Store
Yogurt Factory
Local
Monster Dome
Park
Pier
Maglev Train Station
Food/Beverage
Restaurant
An unknown restaurant. It appears in The Bouncy Tires, Fired Up! and Rocket Ski Rescue.
Breakfast Cafe
A restaurant that sells foods eaten at breakfast, predominantly pancakes. Auto-Vac once sucked up some pancakes here.
Pizzaria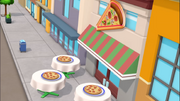 A restaurant that sells pizza. Auto-Vac once sucked up some pizza here.
Meatball Restaurant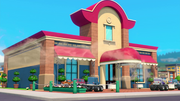 A restaurant that serves predominantly spaghetti and meatballs. Crusher works here as the chef, while Pickle is the waiter.
Paulina's Pizza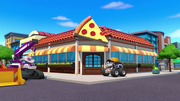 A pizza restaurant owned by Paulina. Blaze, Stripes and Starla helped construct it.
Surroundings
Residences
Starla's Ranch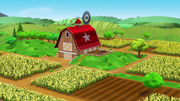 A ranch in the countryside outside the city. Starla lives here. Known farm animals include pigs and cows.
Zeg's Cave
A prehistoric-style cave in the badlands. Zeg lives here.
Stripes' Treehouse
A treehouse in the jungle. Stripes lives here. Animals surrounding include monkeys, parrots, frogs, and a panda bear.