Recycling Power!
Season:
5
Episode Number:
8
Production Code:
#511
Topic:
Recycling
Songs:
Litter Critter
Recycling
Transformation:
Super Recycling Truck
Guest Star(s):
"Weird Al" Yankovic
Airing Information
Original airdate:
Feburary 11, 2020
Credits
Written by:
Clark Stubbs
Directed by:
Marcelo Ortiz
Miguel Martinez-Joffre
Previous
Deep Sea Grand Prix
Next
The Great Space Race
"I can't let this happen! I need a machine that can make more and more junk!"
Recycling Power! is the 8th episode in Season 5 of Blaze and the Monster Machines.
Description
When Axle City becomes trashed by a visiting littering racoon, it's up to Blaze and A.J. to help clean up the town and put a stop to his littering.
Synopsis
Blaze and AJ are driving through Axle City as he greets the viewer than their on a drive, Later, Crusher and Pickle are watching Blaze driving when Crusher is gone drinking. But Pickle tells him that he is littering, So they start to panic when they don't know where to put it, But Blaze knows how, They recycle it.
AJ explains that recycling is when you throw something into the trash, It can be reused into anything. Blaze tells them that everyone should put it into the recycle bins as everyone else starts to recycle. Later, a raccoon named Litter Critter is relaxing in a dumpster throwing garbage around the floor as he starts sing a special song. After he is done singing, He notices that everyone is recycling and putting plastic into the bins.
The Litter Critter cannot stand recycling, So He gets his littering machine and starts shooting trash everywhere as some trucks start screaming. Blaze and AJ notice the Litter Critter is introducing himself to the city and tells them he is making it the most trashy place in the world. Crusher and Pickle wonder who is gonna stop him before he makes it all trashy, Blaze and AJ will stop him. So Blaze transforms into a Recycling truck Monster Machine until a song plays.
After the song, The Litter Critter is still launching trash until Blaze shows up and he is gonna end his scheme, But he starts launching cans and they roll towards Blaze. Luckily, He activates his claw and catches it. But AJ notices some cans are rolling towards Pauline's Pizza Restaurant since it opened last time.
They need to stop the cans from rolling, So AJ tells the viewer how many are rolling, So it was 3 and Blaze catches them with his claw. Paulina thanks him for saving her restaurant, But next they heard some cans are rolling towards a construction site, again AJ tells the viewer how much are, and it was 4 as Blaze starts to catch them with his claw. But they heard the last ones rolling towards Clive's bakery, Then again, He tells the viewer how many cans are rolling, and it was 5 more as He catches them with his claw.
After the attack, Blaze starts to recycle the cans and turn them into cooking supplies, Clive thanks him for saving his bakery and the cooking tools. Meanwhile at the Axle City park, 3 little kids are playing with their dogs, until the Litter Critter shows up and launches bottles everyone during their game of fetch as their dogs get lost. Later, Blaze and AJ arrive at the park and notice bottles are everywhere at the park thanks to the Litter Critter.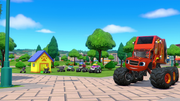 As they arrive at the park, The kids are worried about their dogs lost around the bottles, So Blaze and AJ tell the viewer to search for the lost dogs. First, they found the red truck's dog, second they found the pink truck's dog, and last they found the little turquoise truck's dog. After the search, Blaze recycles the bottles into a doghouse for them to play. But AJ gets a call from the Litter Critter and warns them that he is gonna activate his giant littering machine and is gonna turn the city into a trashy place.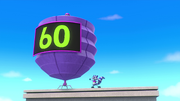 AJ wonders why would he do that, that's because he is gonna blast all litter as he fills the machine of litter as it starts to countdown. While driving to stop the littering, They recycle some bottles to make a surfboard. Next, they went into a tunnel as they found tin cans to make a wrecking ball to wreck the brick wall. Lastly, the machine was counting down to 15, so they found some cardboard boxes to make some wings as he destroys the littering machine while he collects some litter.
The Litter Critter starts crying that he didn't make it trashy, But Blaze and AJ tell him that he doesn't need to make the trashiest city as he really needs to recycle and apologizes the city he will never do it again. Later, Blaze recycles all the litter he collected and turns it into a big racetrack in front of the Monster Dome. So Now he uses Blazing Speed along with the Litter Critter and they race the track together during the song reprises as the episode ends.
Other links
---