Stripes
Stripes, the tiger truck
Type:
Monster Truck (Age 20-23)
Residence:
Jungle treehouse
Occupation:
Monster Machine racer
Truck Ranger
Affiliations:
Monster Dome
Jungle
Truck Rangers
Personal Information
Friends:
Enemies:
Crusher
Likes:
Racing
His jungle horn
Dislikes:
Crusher's cheats
Background Information
First appearance:
Blaze of Glory
Voiced by:
Sunil Malhotra (US)
Stripes is a male Monster Machine with the abilities of a tiger, and one of the main characters of Blaze and the Monster Machines.
Biography
Stripes was introduced in the series premiere Blaze of Glory, as the first Monster Machine Blaze befriended upon first arriving in Axle City. When he was introduced, Gabby had fixed a spark plug for him. He was also the first Monster Machine Blaze had to rescue after being carried away from the championship race by Crusher's Trouble Bubbles. He was stuck in some vines which were breaking over time, and Blaze had to jump to the top by using rocky ramps. He was also the second Monster Machine to encourage Blaze to race for the first time upon returning to the Monster Dome.
Personality
Stripes is shown to be hyperactive and fun-loving for most of the time. He loves adventure, and hanging out with his animal friends. He's also full of vigor and is always on the move.
Appearance
Stripes, like most characters, is a monster truck. His physical appearance slightly resembles a Jeep Wrangler. He is painted a vivid yellow-orange with red-violet tiger stripes. His front bumper is white with two black strips on either side, resembling whiskers. His grill is shaped like an upside-down diamond and resembles the nose of a tiger. The springs on his shock absorbers are gold, his tires have stripe designs on them, and the hubcaps are orange with purple rims. His tail resembles a radio antenna and has gold springs around it.
Powers and abilities
Tiger Sense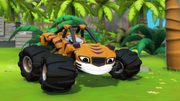 Stripes has a strong sense of smell, something a tiger is really good at doing. He can sniff out scents, which can alert him that someone or something is nearby. He can also smell danger, such as in Fired Up! when he sniffed the smoke in the Axle City Garage which later sets off the smoke alarm.
Tiger claws and climbing
Stripes has special spikes built into his wheels which he calls his "tiger claws", which pop out whenever he needs to climb on something.
Relationships
Blaze and AJ
The Monster Machines
Crusher
Descriptions
Stripes is an impetuous tiger truck who's always ready for action. With a signature growl, he leaps and pounces like a cat, and he's great at jumping and climbing. He has tiger claws that help him to climb trees (or just about anything), as well as super senses, especially his sense of smell.
Other links
---